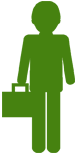 Small Business Owner
Our role in working with Small Business Owners is to help them navigate the challenges that are unique to them.
Whether you are new to your business or an established entrepreneur, the decisions that you make can affect you both personally and professionally.
How We Help You
Do the following types of questions or comments ever run through your mind?
We have a company 401(k) but aren't getting the guidance or understanding we need.
Should I provide a 401(k) for my employees?
Am I doing enough to minimize taxes both personally and professionally?
Group health insurance is so expensive, is there a more cost effective solution?
How can I use my business to help me retire sooner?
How do I best transition from my business to retirement?
Who should I leave my business to – an outsider, a family member, an employee, no one at all?
Do I have the right types of insurance in my business?
I'm a sole proprietor, should I incorporate as an LLC or some other structure?
Should I hire independent contractors or W-2 employees?
What are ways to attract and retain quality employees?
These are just a few of the questions that we help Small Business Owners answer.  Maybe these questions are on your mind.  But if not, don't worry.  You can't be expected to know everything to ask. It's our job to help you answer any questions that you might have but also to protect you and your business from things you haven't even thought about.
In simple terms, our goal is to meet you where you are and address the unique circumstances in your life.  And the best way for us to do this is through our financial planning process whereby we review your entire financial picture.
Feel free to continue browsing this section to learn more about financial planning for small business owners.  Pay special attention to our Blog Section as we write articles that are tailored specifically for Small Business Owners.
Also check out this great article, Financial Planning for Small Business Owners, found on the Certified Financial Planner™ Board website.